Sea Salt Scrub made just for you in customized sents of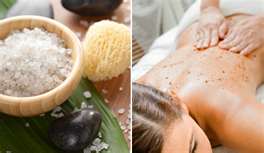 Skin Therapy by Erian
I bring you the most luxurious products at the very lowest prices. So the results you want are finally within your reach. All of these products are very Rich in consistency so very little is needed per use.
Please call or book a free consultaion to go over all of the product options that I have . I always have on hand
Masqs
Toners
Moisturizers
Eye serums
Specialty Products that include anit aging, dark spots, sensitive skin & lip treatments
Cleansers & Exfoliators
I have personally tested these products and found them to be of the highest quality, most sought after and most affordable prices on the market. Please feel free to ask me questions or for my recommendations for your skin type.